How I became a travel writer – and how you can, too!
"Life is either a daring adventure or nothing."
-Helen Keller
This article contains affiliate links. If you use them, I might be rewarded a commission at no extra cost for you. They help me keep tutorials & content FREE for you. Please note that I only recommend tools that I use and love, and I always have my readers' best interest at heart.
I love this quote because it resonates so strongly within me. I have always lived my life with an all or nothing mindset, daring to dream big and refusing to settle. I need to feel passionate about everything I do and make it part of my lifestyle, or else I won't do it. Though frustrating at times, it is also the reason I became an environmental and travel writer, and never gave up.
A Travel Writer Born Out Of Necessity
I always dreamed about working for a non-profit or going freelance. Still, I ended up filling in temporary vacancies at local newspapers until I got the dream job as a press officer for an environmental agency. Well, I thought it was the dream job. It wasn't, because a part of me always longed for more freedom. Fast forward a few years, add a few babies and chronic migraines due to me trying to do it all and exhausting myself – something had to give.
It was this necessity that drove me to slow down and pursue a simpler life. A life with more time for my family, hiking, outdoor adventure, yoga, essential oils, healthy eating – all the things that made my soul thrive and my body blossom.
My dream of becoming an environmental and travel writer awoke again. But how could I achieve it? Where could I start? Believe me; a shiny journalism degree doesn't necessarily pave the way. You need a flair for writing and persistence to make it. That is why I strongly believe that everyone can pursue their dream of becoming a freelance writer.
Do you want to get paid to write too? Check out my free writer's guide to get started today.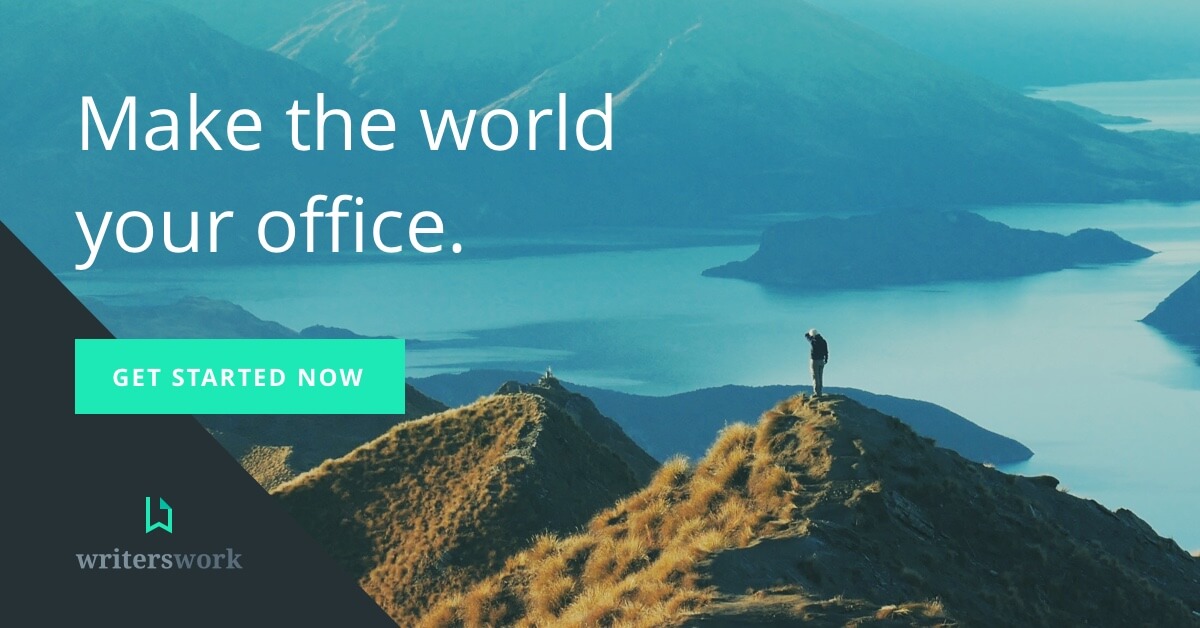 Learning Through Trial And Error
Oh, all the glorious mistakes I have made! I almost cringe when I think back at it – but only almost, because its the mistakes that make us better writers. If you are anything like me, you'll let fear of failing hold you back. Girl, let me tell you this: without failure, you will not accomplish a single thing. It is also through failing the learning happens. Making mistakes is actually a good thing for writers!
I started by taking on grossly underpaid assignments at content mills. And trust me, spewing out content for pennies will do nothing good for your writing skills – I certainly picked up a few bad habits that were hard to beat.
I did have the advantage of being bilingual. I was therefore able to make a half-decent living for myself at Upwork by offering my services in Norwegian. The competition was scarce, compared to the English language. Gradually I grew my portfolio and started learning about exactly what it takes to up my freelancing skills to the next level.
What Next
I am now at a crossroad where I am working on building a strong online presence. I will share some of the tools I have learned, necessary to build credibility and authority:
Guest posting at reputable magazines
Building a writers website
Starting a blog
Writing an awesome Linkedin profile
Creating a kickass portfolio
I am still working on some of these points, and that is okay. My best advice is to take it slow; however, don't stop. If you are juggling a full-time job or you are a stay at home parent, take comfort that even five hours per week will make a massive difference in reaching your goal.
Carving Out Time To Become a Travel Writer
"Moooooom, where are my shoes"? The clock is ticking as I am rushing to get everyone ready for school while caring for my toddler demanding cuddles and food. The dogs are barking at the door; the house is a mess, I have barely slept five hours that night … Oh, energy, where are thou?
Sound familiar? How on earth am I going to carve out time, you might wonder. I wondered that too. But trust me, if I can do it, so can you. It does require some sacrifice, and you will miss out on a few things to get there. I had to ditch some evenings with my hubby, even if I longed to curl up with him and watch Netflix. Nap-time got spent in front of the PC, rather than napping with my babies.
However, just as I mentioned above, even 5 hours can make or break your future career as a travel writer. Make a plan and commit to it. For example, you could dedicate an hour each evening to pitch and write. If you can't see how you can carve out time, I suggest making a detailed note of your days. At the end of the week, read through them and see exactly how you spend your time. How much time do you spend on social media? Netflix? Can you get up a little earlier in the morning and write before the kids get up or before you start work?
Persistence And Inspiration
I remind myself daily why I do the things I do. I write gratitude lists. I take time to unwind, focus on myself, and gather new energy. It gives me the drive to be persistent. For me, the bonus is getting more time to hike and explore the great outdoors. I also get the freedom to travel, as I only really need a laptop and WiFi.
If you find yourself losing focus, just as I do at times, I recommend writing a journal. Jot down why you are doing this, remind yourself of your goals, your accomplishments, your dreams. You can even write yourself a letter, reminding yourself what a badass business babe you are, and read it in moments of doubt. We are all enough.
It will be worth it in the end, I promise.